Here at Creative Scholars Preschool we take safety seriously. Learn about what we are doing to provide a safe, nurturing environment for your child.
Read Our Safety Statement >
Learning + Play = Success
What do you want for your child's future? Studies show that high-quality relationships between children and teachers are the highest indicators of student success and that a child's oral language is the highest predictor of literacy success. At Creative Scholars Preschool, teachers build strong relationships. Teachers read more, they have more conversations with children, children engage in rich experiences that spark their vocabulary. At Creative Scholars Preschool, children learn more. They create. Collaborate. Build confidence. Come see us for yourself, and experience our warm, welcoming and nurturing environment.
Creative Scholars Preschool Classes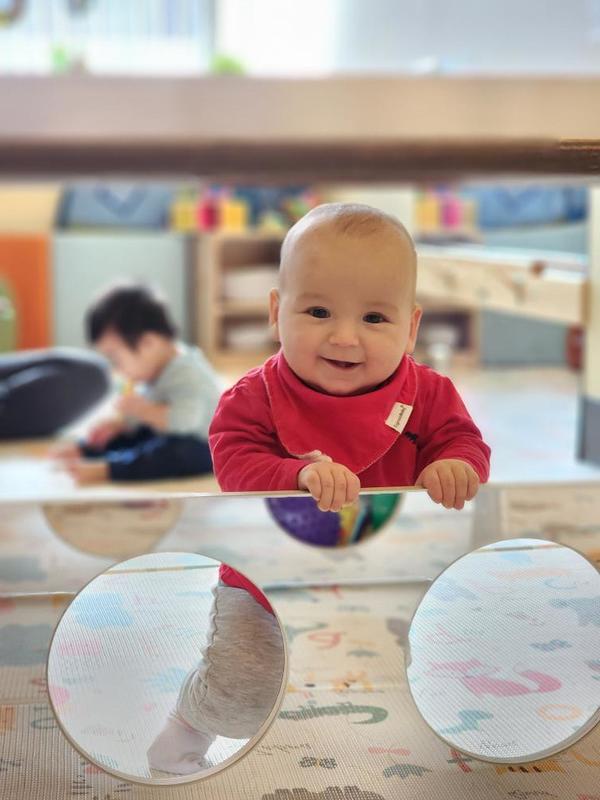 Our Daycare, Infant Class is designed to be a supportive "home away from home" for our youngest children.
Program hours
All day preschool: 7:00-6:00
Program days
2 day program
3 day program
5 day program
Learn More About
Our Classes for 6 week olds >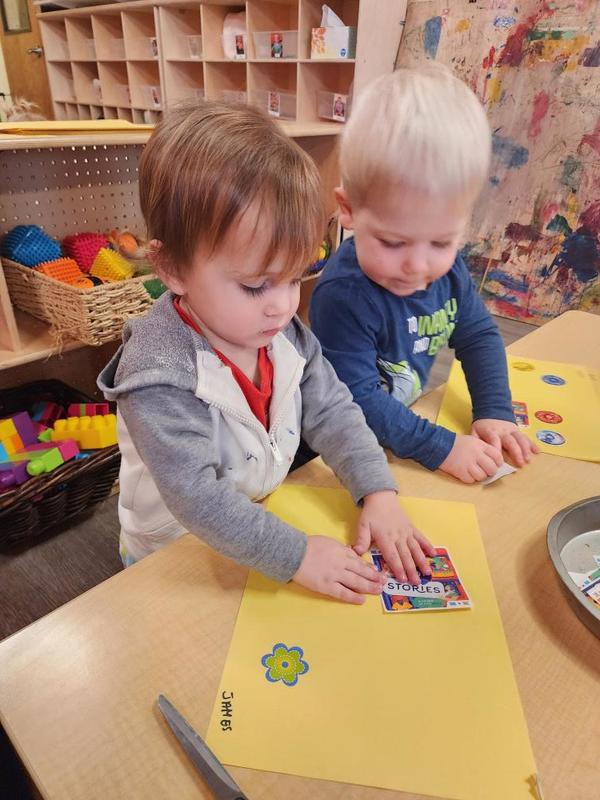 Our Tots Program provides the exploring toddler with many and varied opportunities to discover their effect on the world.
Program hours
All day preschool: 7:00-6:00
Program days
2 day program
3 day program
5 day program
Learn More About
Our Classes for Tots >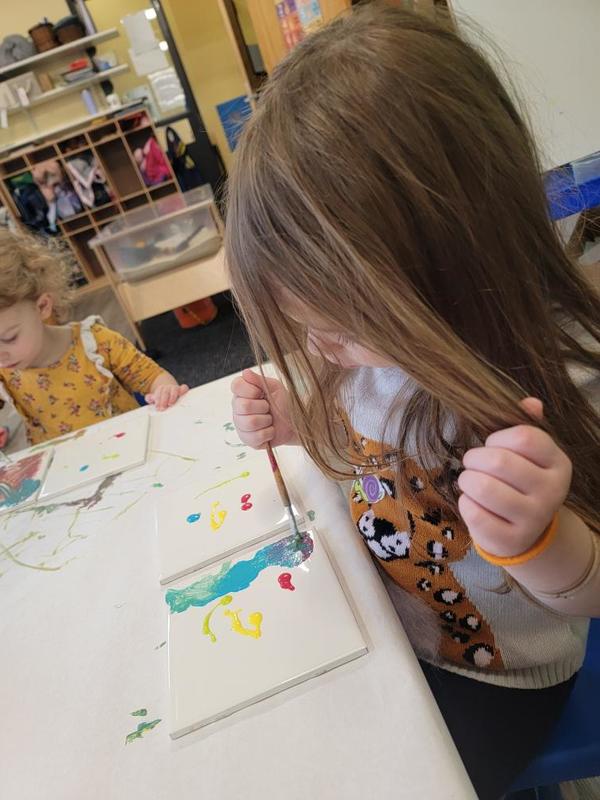 Our Jr Kindergarten Program provides the older preschool aged child the opportunities to collaborate, build self-regulation and problem solving strategies, and engage in literacy, math, and science activities that set the foundation for kindergarten.
Program hours
All day preschool: 7:00-6:00
Program days
2 day program
3 day program
4 day program
5 day program
Learn More About
Our Classes for 3 to 5 year olds >
Why Creative Scholars Preschool
Confident. Creative. Collaborative. Curious.
At Creative Scholars Preschool, we provide an engaging and nurturing environment for children ages 6 weeks through 5 years where intellectual curiosity, cognition, and creativity are developed.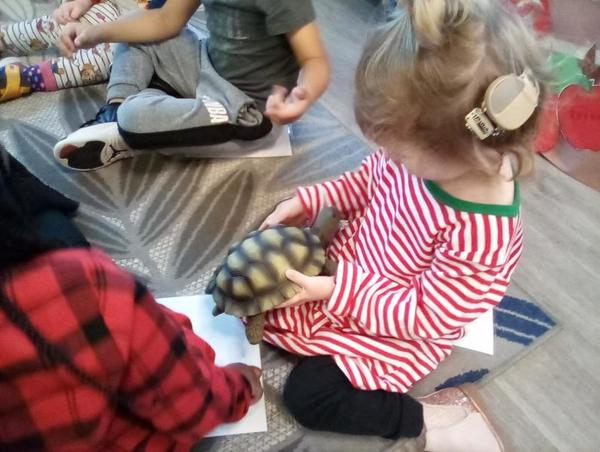 The Creative Scholars Difference
Literacy
The development of early literacy skills and understanding happens along a continuum at Creative Scholars, a continuum that is so deeply integrated into our days that it the practices of reading and writing have become woven into the fabric of the classrooms.  At Creative Scholars, we are writing and reading every day in every classroom.  We write for the pure kinesthetic joy of it, for functional purposes, and as one of many ways we communicate our thoughts and ideas.  We read for pleasure, as we explore language concepts, to gather information, to create community.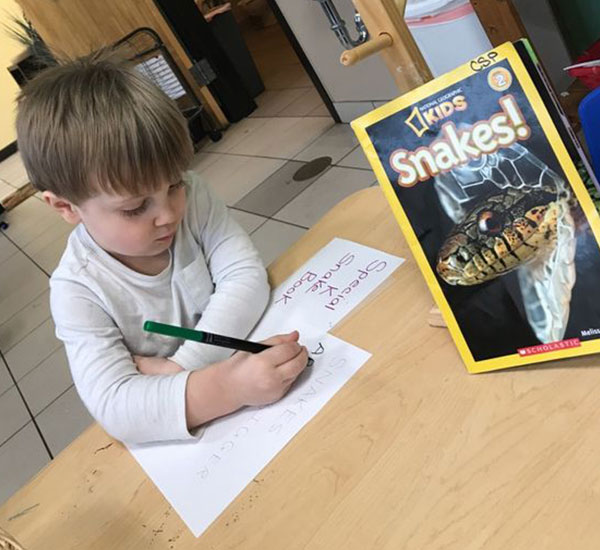 Math and Science
The development of early math and science at CS is focused on providing children with opportunities to participate in the scientific method, build a familiarity with the languages of math and science, and develop a drive to investigate and problem solve. Our primary goal is for children to develop strong intellectual dispositions as they relate to working with math and science; we strive to help children develop the desire and capability to problem solve, to think flexibly, to collaborate, to question, to experiment, and to discuss. In the early years, particular science concepts are not the focus as the children's interests dictate what types of phenomena are explored.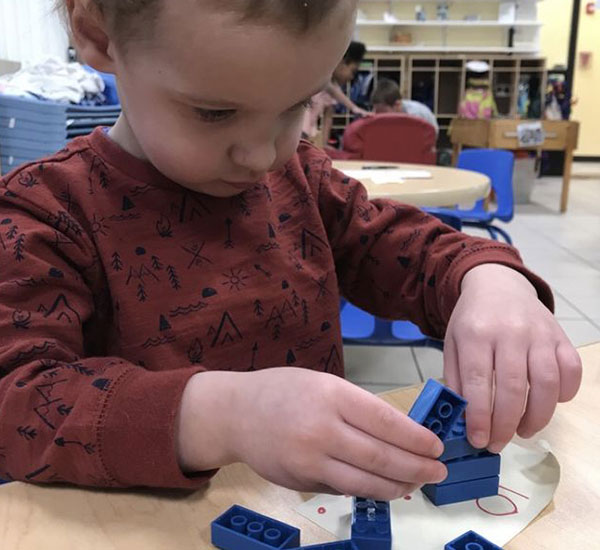 Our Play Space
At Creative Scholars we understand the importance of gross motor play on a child's health and development. Young children are constantly on the move; this movement builds their brains, strengthens their bones and muscles, and supports their self-confidence. Every day, the children spend at least an hour at the indoor playground. With large skylights bringing in natural light, our play is not tampered by the elements; even when it is raining, the heat is extreme, or the cold falls below freezing our students have a safe and engaging place to get exercise and large movement in their day.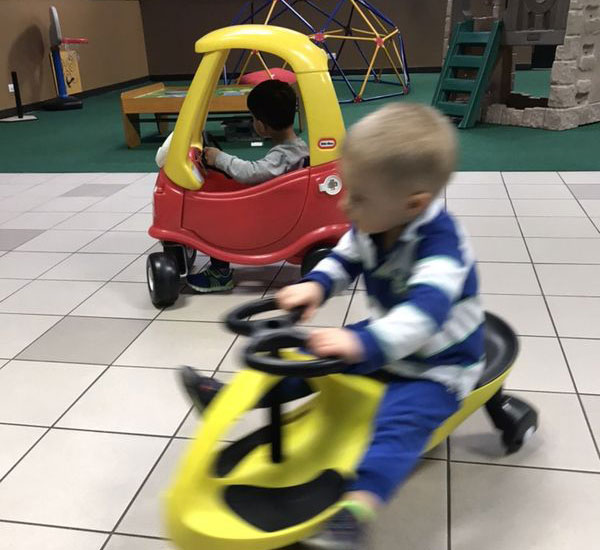 About Creative Scholars
Opened in April of 2009, Creative Scholars Preschool offers all day preschool to children ages six weeks through five years. The environment within is warm and nurturing. Creative Scholars Preschool is a safe, engaging, collaborative place for children to learn. As a daycare and child care center with a focus on early literacy development, fine arts, and social-emotional intelligence, CSP offers a curriculum that enables teachers to discover the unique gifts each child possesses.
Our teachers are supportive, qualified, talented and caring. Together they have decades of experience in early childhood education and hold degrees in areas like Early Childhood Education, Educational Psychology, Elementary Education, Arts Teaching, Fine Arts, Theater Performance, and more. Together they share a passion for art, music, and drama. Prior to joining Creative Scholars, our teachers have held positions teaching in toddler classrooms, kindergarten classes, pre kindergarten classes, children's theaters, and more.